Food Pharma Guar Gum Powder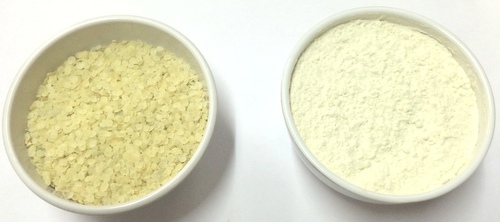 Business Type
Manufacturer, Exporter
Type
Pure
Style
Dried
Certification
FDA Certified
Click to view more
We are renowned Manufacturer, Supplier and Exporter of Guar Gum for Food and Pharma having a large customer demand in India and overseas. Making an excellent thickening additive, emulsifying additive and stabilizing additive, the Guar Gum we offer is organically extracted and is 100% food grade. Buy from us in bulk quantity to get attractive deals. We use best packaging material to deliver damage-free products to our customers.

Additional Information :
Food, Feed and Pharma Application Guar gum is a galactomannan polysaccharide obtained from ground endosperm of the legume Cyamopsis tetragonolobus, an annual plant which grows mainly in arid and semi-arid regions of India.
Guar gum, also called guaran, is a galactomannan.
It contains 36.6%D-galactopyronosyl units and 63.4%D-mannopyranosyl units.
The ratio of D-mannopyranosyl to Dgalactopyranosyl units is about 1.8:1.
The average molecular weight of guaran is in the range of 1-2 106 dalton.
The cis-position is important since adjacent hydroxyl groups reinforce each other in hydrogen bonding reactions.
Our guar gum powder can be used in rheology management of food, feed and pharma ingredients with following properties.
Very high to very low viscosity guar gum powder as per FCC norms.
Available in different particle sizes.
Slow hydrating to fast hydrating guar gum.
Customized product as per customer's requirement.
Details
Widely used in Food Industries
In Ice Cream/Dairy Products

:

Provides smooth and creamier texture, prevents formation of ice crystals and quick meltdown.
In Bakery Products

:

Improves texture, crumb and structure, increases shelf life, and improves moisture retention. It also increases dough yield, shelf life.
In Noodles

:

For Better sheet formation, as well as it improves moisture retention, texture and machine runnability, thereby increasing production.
In Pet Food

:

As a viscosities.
In Pastry Ices

:

Absorbs free water as well as prevents
excessive stickiness.
In Processed Cheese

:

Improves texture and flavor and use as Stabilizer.
In Beverages

:

Controls viscosity, improves body and mouth feel and also improves shelf life.
In Soups

:

For increase thickener and Stabilizer.
In Noodles

:

Improves texture, form and moisture retention.
In Meat

:

Use as a binder in sausages, it absorbs free water, improves flow rate, prevents separation and migration.
In Dressings and Sauces

:

For Thickener, emulsion stabilizer and improve flow properties.
Looking for "
Food Pharma Guar Gum Powder

" ?